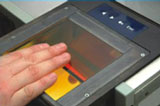 * In Business since 1993 *
We guarantee the lowest price in town
We provide both black ink rolled fingerprinting service using fingerprint cards and State of California certified, DOJ approved, Live Scan digital fingerprinting.


Group Discounts


LiveScan is inkless electronic fingerprinting. The fingerprints are electronically transmitted to the Department of Justice for completion of a criminal record check.

What is Livescan Fingerprinting?
Livescan is an inkless fingerprinting process where fingerprints are electronically transmitted to the Department of Justice for background screening. Ink fingerprinting is still required in many states. However, as a result of legislation passed in 1997, the California Department of Justice (CA-DOJ) has developed the automated background check process, which requires Livescan fingerprints for criminal history background checks that may be required as a condition of employment. Livescan technology replaces the ink process of recording fingerprint images. The CA-DOJ may also forward Livescan fingerprints to the FBI if required.
Who Needs Livescan?
Livescan may be required as a condition of employment for: Teachers, Care Givers, Contractors, Security Guards, Nurses, Doctors, Surgeons, Real Estate Licensees, Appraisers, Notaries, DMV Licensed Professionals, Foster Parents, Stock Brokers, Volunteers, and anyone applying for a professional licensing, certification, or permit. Persons applying for foreign adoptions or VISA/Immigration clearances may also need Livescan processing.
What is Required for Livescan Processing?
You must present the "Request for Fingerprinting Service" forms from your employment organization and you must present valid photo identification when being fingerprinted.
What are the Benefits of Livescan Service?
The Livescan service center provides a convenient means of capturing your fingerprints. Your fingerprints are transmitted directly to the CA-DOJ, so your background check may be completed quickly.
How Does the Process Work?
A trained and certified technician will scan your fingerprints using a Livescan. The fingerprinting session takes five to ten minutes and your prints are immediately sent via electronic transmission to the appropriate FBI-Certified channeling agencies for background processing. The results of the background check are returned to the original requesting agency.
How Do I Check My Livescan Results?
The results of you background check are made available to the requesting agency and may take 7-10 business days to process. You can check with the requesting agency or call the Department of Justice automated service line at (916) 227-4557. Make sure to have your birth date and ATI number when calling. The ATI number is on the bottom of the Request for Livescan form. The system will prompt you to enter the ATI number: for the letters, enter the corresponding numbers and for the birth date, enter MM/DD/YYYY.
We serve these California cities of the greater Los Angeles Area: Monterey Park, Alhambra, Arcadia, Azusa, Baldwin Park, El Monte, Montebello, Monrovia, Rosemead, South Pasadena, Pasadena, San Marino, San Gabriel, Temple City, East Los Angeles, Los Angeles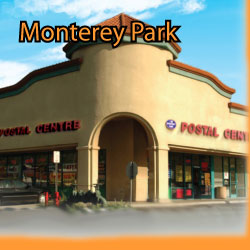 Monterey Park
Postal Centre
925 S Atlantic Blvd., Suite #101
Monterey Park, CA 91754
Tel: 626-228-5255
Fax: (800) 821-3996

(On the corner of Atlantic & Floral near the 60 Fwy
inside the Atlantic Square)
Office Hours: M-F 9-6 / Sat 10-3
WALK-IN Welcome
Live Scan Service:
Officially Certified Registered and Licensed Provider with California Department of Justice
Fee:
Department of Justice $32.00
Federal Bureau of Investigations $19.00
Rolling Fee $20.00
Payment:
Cash / Cashier Check / Credit Card